Practicum Weekends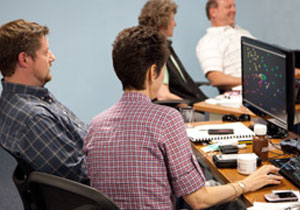 $495 per topic
(Registration fee covers course, materials/manuals and daily breakfast)
Description / Purpose
Practicum Weekends are intermediate-level courses designed to give neurofeedback clinicians additional hands-on clinical practice. These classes are limited to 14 attendees, ensuring the highest quality one-on-one learning experience.
Currently, we offer three topics: Neurofeedback Assessment, Infra-low Frequency Neurofeedback and Alpha-Theta Neurofeedback. The course content is focused on the individual topic, each offering a unique set of learning objectives. This is an intermediate-level course that provides extra practice for those clinicians who have completed some neurofeedback training.
The Practicum Weekends fill up fast, so please be sure to reserve a spot in the practicum that best suits your needs. Course schedule is subject to change.
Presenters (vary by topic)
Sue Othmer, BA, BCIAC, Roxana Sasu, RN, Evvy Shapero, MA, Caroline Grierson, RN, BSN, BCIAC
Credits
14 CE hours (per topic)
2013 Schedule - Los Angeles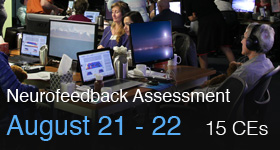 Neurofeedback Assessment
July 26 - 27
November 22 - 23
Infra-low Frequency Neurofeedback
August 23 - 24
Alpha-Theta Neurofeedback
May 17 - 18
October 25 - 26
6-Day Practicum Week - $1485
June 24 - 29

SOLD OUT
Please call 866.334.7878 if you would like to be put on the waiting list for this date
September 16 - 21
ONLY 1 SPOT LEFT!
Hotel & Location Details
Monthly Promotion

Neurofeedback Assessment
Learn how to conduct and combine information from the interview with your client, QIKtest data, and the first neurofeedback session. Set up symptom tracking and create a treatment plan for new clients.
Syllabus
Infra-low Frequency NF
Learn how to read EEG displays, optimize reward frequency, understand training effects, adjust sites and communicate with clients to assess symptoms.
Syllabus
Alpha-Theta Neurofeedback
Learn how to use guided imagery, understand history graphs and session results, and how to work with different client groups.
Syllabus
6-Day Practicum Week
Includes Neurofeedback Assessment, Infra-low Frequency Neurofeedback and Alpha-Theta Neurofeedback practicums into a 6-day format.
Syllabus
Who Should Attend?
Health and mental health practitioners, with a Masters or above, who wish to add neurofeedback to their clinical practice:
Psychologists, PTs and OTs, LPCs, Psychiatrists, Neurologists, Nurses, Social Workers, MFTs, Family Therapists, Educators, LCSWs, LMHCs, Medical Doctors and Chiropractors
OMC Certification

The Othmer Method Neurofeedback Certification establishes a standard of excellence for neurofeedback clinicians wishing to demonstrate a high level of competence through education, mentoring and clinical experience.
By attending this course, you have taken a step towards starting the process of obtaining your certification.
Learn More About Getting Your Certification
Cancellation/Refund Policy: Cancellations must be received 10 days prior to the workshop. Cancellations made within the 10-day period will be subject to a $200.00 course materials and processing fee. If you cannot attend, a qualified substitute may attend in your place or you can choose to attend one of the other scheduled workshops.

Contact Information: To cancel your registration, sign up for a different workshop or have questions regarding this course, call EEG Info at 866.334.7878.

Information for special needs participants: This program will be accessible to individuals with disabilities, according to requirements of the Americans with Disabilities Act. Please contact EEG Info if you need further information or if you have requests for special needs participants.

Continuing Education: The course meets the qualifications for 14 CE hours (per topic for Neurofeedback Evaluation, Infra-low Frequency Neurofeedback, Alpha-Theta Neurofeedback), 42 CE hours for Practicum Week, of continuing education credit for MFTs and/or LCSWs as required by the California Board of Behavioral Sciences; provider #3628.

Continuing Education for Psychologists: This course is co-sponsored by Amedco and EEG Info. Amedco is approved by the American Psychological Association to sponsor continuing education for psychologists. Amedco maintains responsibility for this program and its content. 14 CE hours per topic, 42 CE hours for Practicum Week.

Nurses: Provider approved by the California Board of Registered Nursing, Provider Number 15652 for 4 contact hours per topic.

Satisfactory Completion: Participants must have paid tuition fee, signed in and out each day, attended the entire seminar, and completed an evaluation, in order to receive a certificate of completion/attendance. Certificates will be sent after the seminar.