watch a video on adjusting the reward frequency in cygnet (3 min)

Adjust the Reward Slider to the desired center frequency.
Use the left / right keyboard arrow keys for fine adjustments if necessary.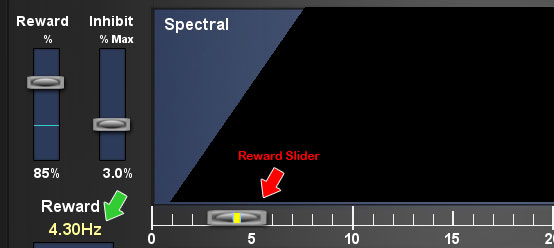 Notes on Reward Frequency:
The reward slider allows you to select the center frequency of the reward band. The yellow line of this slider shows the center reward frequency which is also displayed numerically to the left under the label "Reward" (see green pointer above).

At any center frequency at or above 1.50 Hz (0.0-3.0 Hz), Cygnet will set a 3 Hz wide reward band that extends from 1.5 Hz below to 1.5 Hz above the center frequency. For example a center frequency of 5.00 Hz corresponds to a 3.5 – 6.5 Hz frequency band.

Below 1.50 Hz (0.0 – 3.0 Hz) the reward band will be narrowed to allow the selected center frequency. For example a center frequency of 0.05 Hz corresponds to a 0.0 – 0.1 Hz frequency band.

We have found that the 3 hrz wide filter is the optimal width because it is the perfect balance between speed and accuracy for our type of work. There is a great deal more than just the width of the filter that is important, there is also something called the "filter order". We have used our 20 years of experience to build into cygnet the best of our knowledge. We have taken the best filter combination, with the best filter order, and the best inhibit strategy, and made it simple and easy for you to use by allowing you to describe it with a single number. You no longer have to worry about using two numbers to describe your reward frequency in your notes, or when talking with other professionals. Now you can use a single number to describe your reward frequency, and the inhibit strategy is also fixed, so that you don't have to configure complex inhibit strategies. And conveniently these strategies are better than the hand selected ones. Wherever possible we have chosen to automate things in cygnet, but only when that is preferable. If things need to be adjusted by hand by the clinician, then we have done our best to make those adjustments as simple and intuitive as possible. Again, this is all with the philosophy that the best clinical work can be done when you have time to focus on your client instead of worrying about making adjustments. For this reason we have moved to a single number that describes the reward frequency, in the end the new model will be much easier for clinicians, and hopefully by continually simplifying unnecessary technical complexities, clinicians will spend more time focused on the client, and as a result, session outcomes will improve.