Adjust the sliders to the desired level of reward or inhibit percentage.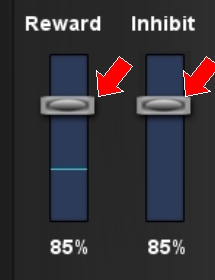 Notes:
- Older versions of cygnet use a different slider configuration, please download the latest cygnet version.
- Default value for reward and inhibit challenge percentage in most games is 85% and can be adjusted from 50 - 100%. Particle Editor has a default 65% reward challenge.
- Sliders are based on "percent success". For both the reward and the inhibit slider, increase the height of the slider, thus increasing the percent success number, to make it easier for the client.
- Set reward percentage to 100% for inhibit only training.
- Set inhibit percentage to 100% for reward only training.
- Setting both reward and inhibit to 100% is not advisable and would yield no training, or "always on feedback".
watch a video on adjusting the reward and inhibit challenge in cygnet (2 min)
Refer to 6.3 and 6.4 of the Cygnet User Manual for more information on reward and inhibit challenge.