To playback DVD movies as feedback in Cygnet software, you must first transfer the movie from the DVD to your computers local hard drive. This process is known as "Ripping". You will then use the Video Playback option in Cygnet to playback the movie.
To assist in the ripping process, we recommend you purchase Magic DVD Ripper software. The remainder of these instructions assume that you are using Magic DVD Ripper.

Website: http://magicdvdripper.com
Price: $34.97
Trial Period: You may download and install the program and try it out for 5 fully functional trial uses. This will allow you to convert 5 entire movies for free.
It is also recommended that you download and install the FFDShow video codecs package. This package will install most popular video codecs on your computer which will allow for your computer and Cygnet to be able to playback many more video types without incident.
Create a Folder to Store Movies
Minimize all windows so you can see your windows desktop
Right click on the Desktop and choose New > Folder
Name the folder Cygnet Movies
Configure Magic DVD Ripper
Launch the Magic DVD Ripper software
Insert a DVD movie disc into your computers DVD-Rom drive.
Please close any movie playback software that Windows automatically opens when you insert the DVD. These programs may have a conflict with the Magic DVD Ripper software and should be closed before proceeding.
Click on the Folder icon by "Destination"
Browse to the Cygnet Movies folder that you created on your desktop earlier
Click OK


Click on the Convert Tab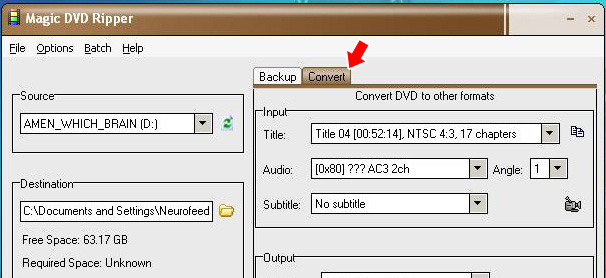 Select Title O1 from the Title Drop Down Menu.
Most full length movies are stored in Title 01. You may also rip smaller parts of the movie by selecting the appropriate Title.

Selecting an Output Profile
We have created a preset profile for you to use.
Download Custom Profile: Cygnet Video Playback ( You must right click this link and choose save file or save target)
Download the file to your Windows Desktop for easy retrieval.

In Magic DVD Ripper software:
Click on Options
Click on Import Profiles

Choose "cygnet-video-playback.dpf" from the location you saved the file to.
Click Open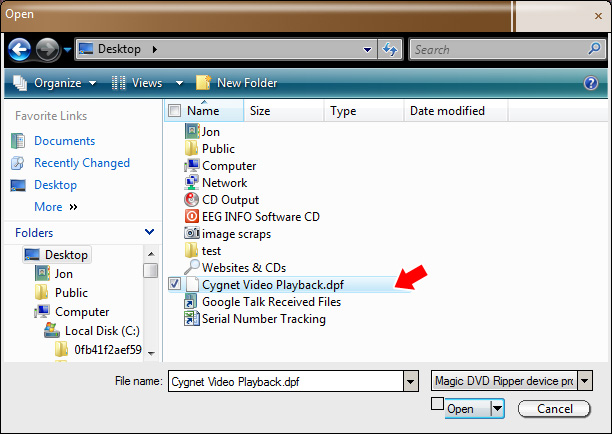 Click Yes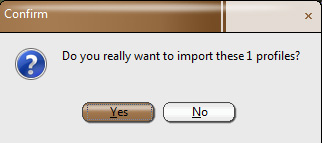 Choose "Cygnet Video Playback" as the Profile.

Click on the Start button to begin ripping.

The ripping process is likely to take 2 - 3 hrs for a full length movie. It is recommended that you close all other applications and not use the computer while the ripping process is occuring. Consider using a computer that does not get much use during the day or performing a rip in the late afternoon just before leaving the office for the day. A full 2hr movie will require a little over 1 gigabyte of hard drive space.
Using Video Playback in Cygnet
Open Cygnet Software
Select "Video Player" or "Video with Beeps" from the Feedback drop down menu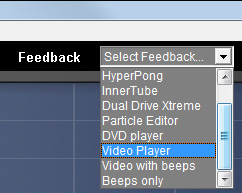 Click on the folder Icon next to the feedback drop down menu.


Find and select your video file for playback.
Click Open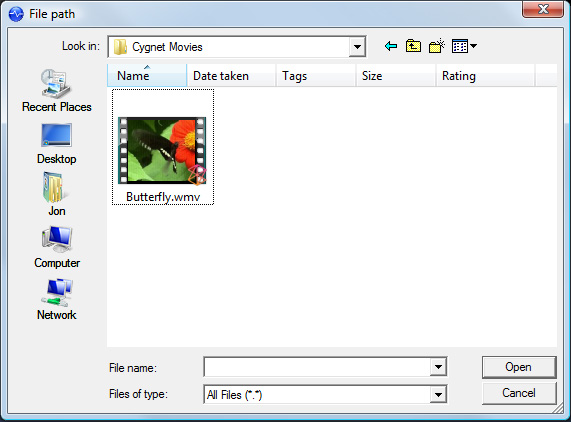 Press the play button in Cygnet software to begin your session.