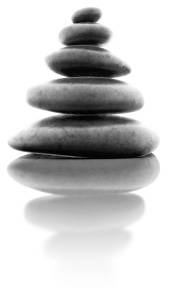 What are Examples of the Self-Regulation Remedy?
Any of the various techniques that don't depend on medication
or invasive methods rely in one fashion or another on the Self-Regulation Remedy. That is to say, the expectation is that the body will be better able to take care of itself after the procedure than before.
Examples of an appeal to the "Self-Regulation Remedy":
Acupuncture
Biofeedback and Neurofeedback
Chiropractic
Hypnotherapy
Massage
Repetitive Trans-Cranial Magnetic Stimulation (rTMS)
Light and Sound Stimulation
Tai-Chi
Electro-convulsive Shock Therapy
Of these, the most common is Chiropractic, but potentially the most important is Biofeedback and Neurofeedback. In particular, Neurofeedback is just coming onto the radar screen, although it has been in research for thirty years.
Neurofeedback is brain training. We discern the state of regulation of the brain, and we encourage and reward the brain for moving to better-regulated states. This is a kind of brain exercise. Since the brain is in charge not only of mental activities but of bodily functions as well, this approach has import not only for mental health conditions but for a great variety of medical (somatic) conditions as well.
Principal applications of Neurofeedback:
Attention Deficit Hyperactivity Disorder
Anxiety and Depression
Migraines and other pain syndromes
Sleep Disorders
Traumatic Brain Injury
Bipolar Disorder
Dementia
Cerebral Palsy
Remediation of Learning Disabilities
and many more...
Neurofeedback can also help our body-mind to function better in the general case. We must think beyond mere remediation of deficits. Examples include:
Improved IQ
Improved memory function
Higher musical skills among professional musicians
Management of performance anxiety among performance artists
Better sports performance among top athletes
Improved relationships
For more information on Neurofeedback, visit www.eeginfo.com, the Neurofeedback portal.